"We should be shining lamps giving light to all around us." (Catherine McAuley)

For me, these words beautifully sum up how our McAuley family has risen and rallied these past few weeks. Whether student, faculty, staff, parent, alumna, or donor, we've become the light for one another and others in our world. I've been uplifted by the responses that many of you sent following my previous email. As I relay highlights of last week's school happenings, I've included responses that I've found inspiring and indicative of how "McAuley is more."
Although our building is closed, learning continues. Survey results indicate that our students are pleased with the structure of our eLearning, and they have demonstrated their willingness to adapt when needed. I remain so grateful to Mrs. Eileen O'Reilly and her team for their constant evaluation of how best to meet our students' needs.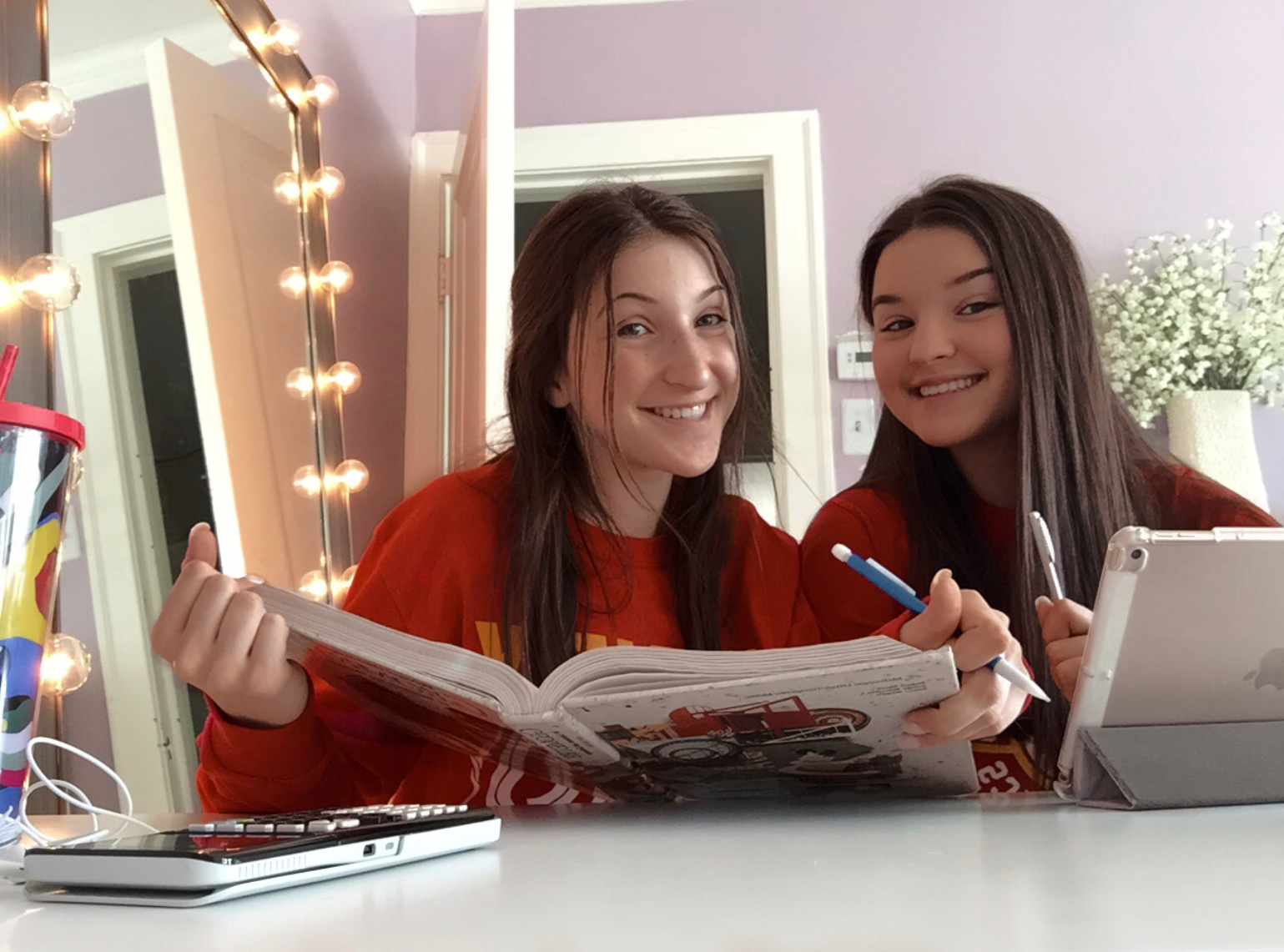 Our counselors have offered support to students by hosting virtual meet-ups. They recently connected via Google Hangouts with members of the junior class to discuss the college application process and how to research data on acceptance rates, GPA/ACT/SAT requirements, early action deadlines, essay questions and more.
"Thank you for your leadership--and that of Eileen, the faculty and so many others, as we navigate these uncharted waters. My daughter misses her school, but she is soldiering on, learning, and being remarkably calm amidst the uncertainty we all face. I credit the McAuley team of dedicated, caring professionals for her confidence in the future and her ability to focus on what she can control in the present. Your Mighty Macs team is thoughtful, reflective and agile in how incredibly well they are handling things."
We know you just can't keep the spirit of a McAuley girl down! We participated in a virtual Spirit Week, dressing up in themed attire each day, including pajamas, #Squadgoals, tourists, McAuley spirit wear, and the Roaring Twenties.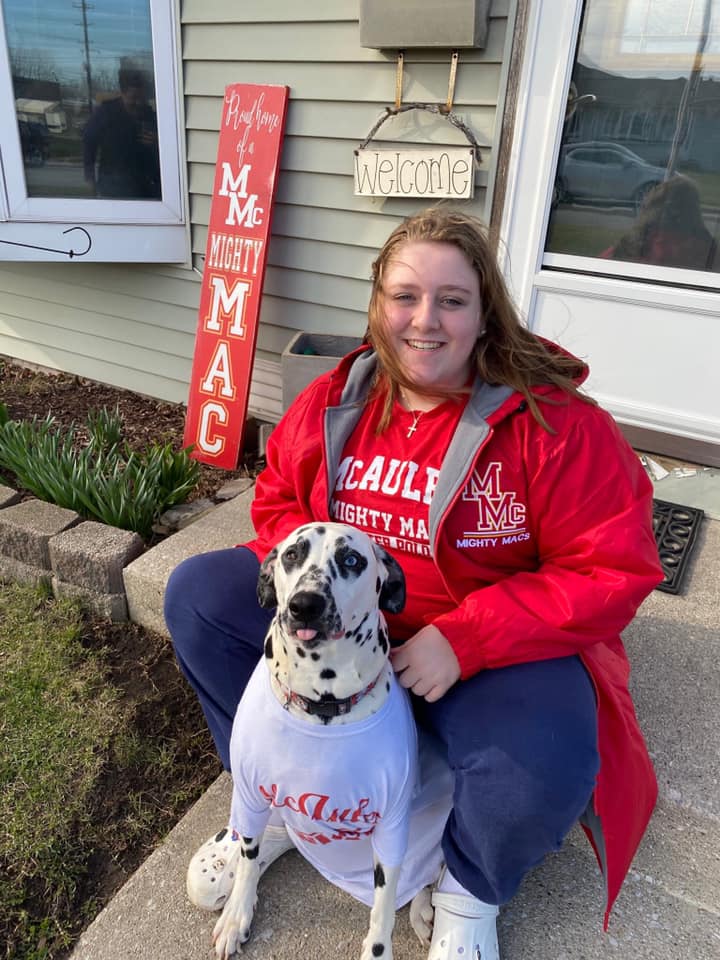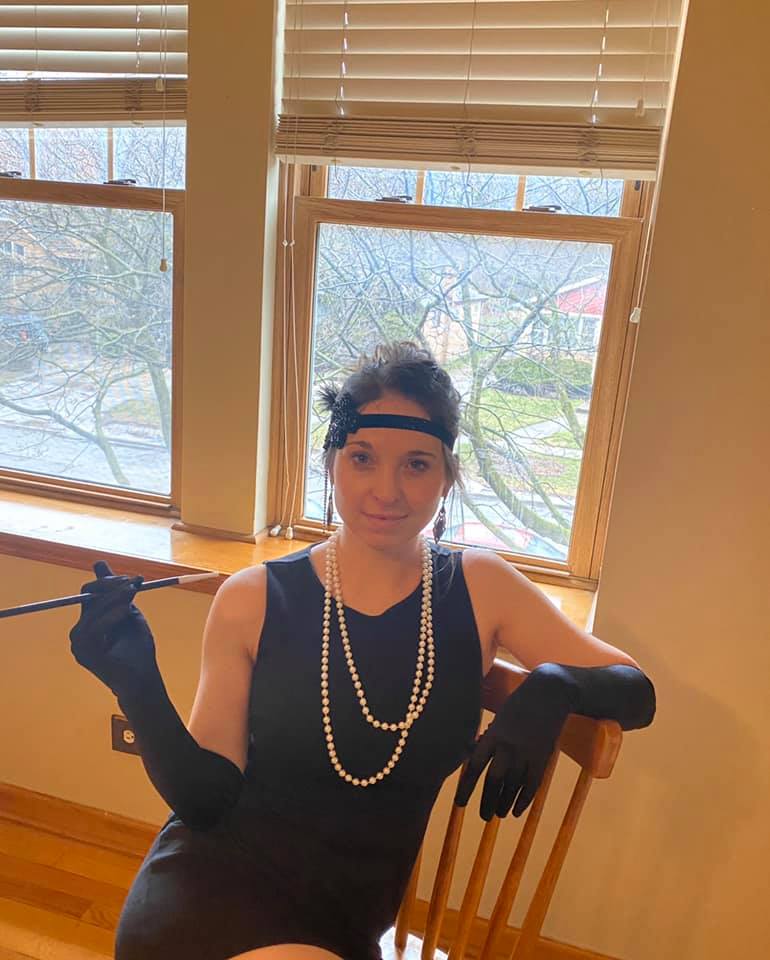 Our ritual of prayer, the Pledge of Allegiance and announcements resumed and is led each morning by a member of the student government. The videos are shared on social media and are a wonderful way to begin the day. Similarly, our faculty and staff are greeted by a "Daily Dose of Prayer" email from Amanda Sullivan, chair of our theology department. The messages feature intentions and inspirational words or scripture passages.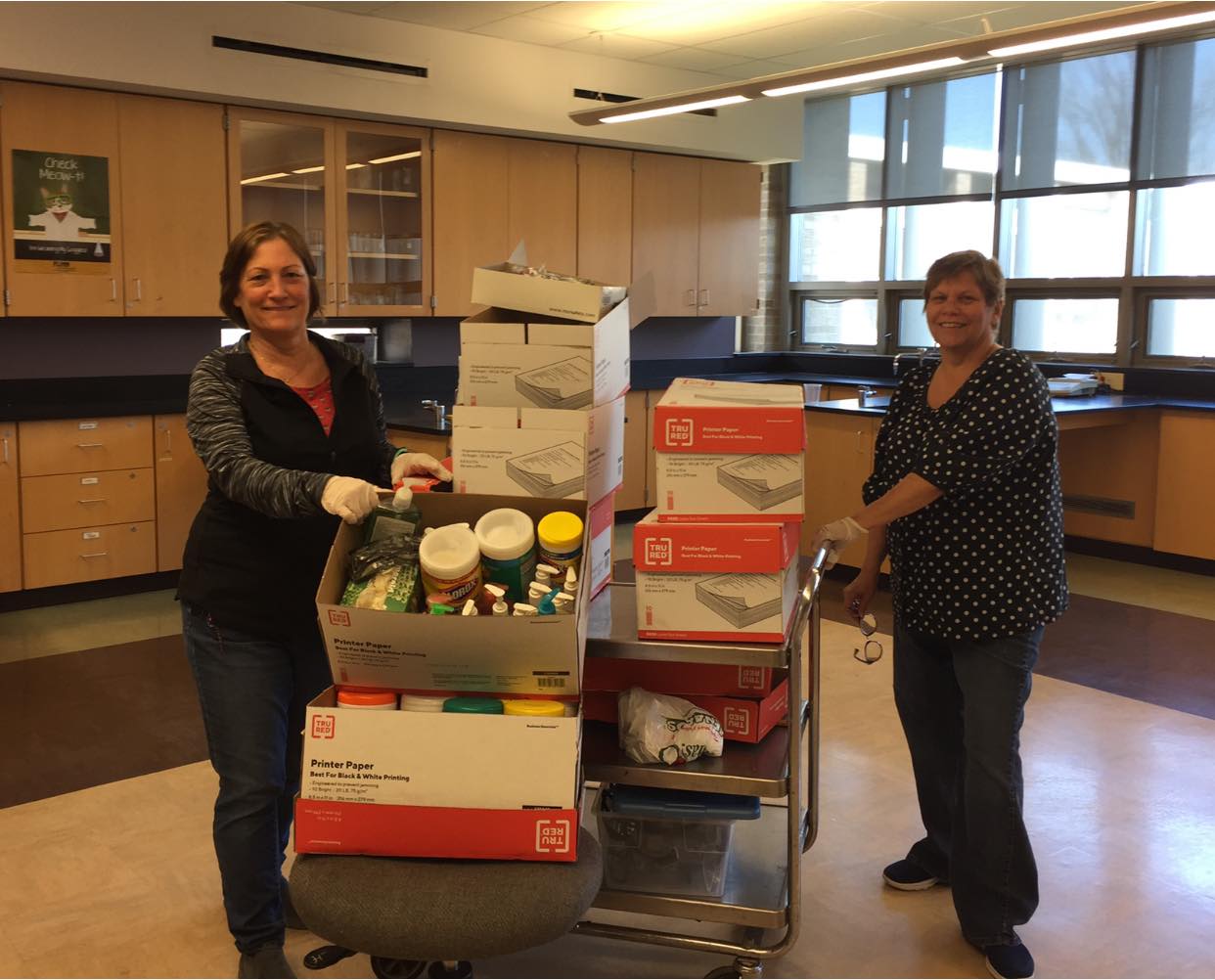 In a true work of Mercy befitting of our legacy, masks, gloves and other critical Personal Protection Equipment items, or PPE, were collected from our building and classroom supplies and delivered to local hospitals where they can serve the greater good.
"When my husband and I were trying to make our final decision on which high school to send our only daughter to, my husband asked me what I call a life-altering question: 'Which high school do you see yourself volunteering at? Where do you want to spend your time being an actively engaged parent?' It took me about a nanosecond to think about my answer – 'MCAULEY, OF COURSE!' Being a McAuley Alumna (class of 1996), I knew without a doubt McAuley was where I wanted to invest my time. To have the opportunity to contribute back to the alma mater that provided me with an excellent educational foundation as a future leader would be truly rewarding."
Today we were scheduled to be together to celebrate our 2020 McAuley Hall inductees. Though delayed, we are not deterred and look forward to celebrating these women on March 21, 2021. We know this next year will bring even greater accomplishments and reasons to honor them. Let us today, united in spirit if not in person, honor the great work of all our McAuley alumnae and supporters. We honor those who are sheltering-in-place, who are teaching remotely, who have taken on the role of homeschooling, who operate and support essential businesses, and especially those who serve on the front lines of this pandemic -- first responders, nurses, physicians, pharmacists and many more.

I close with heart-warming testimonials that speak to the character of our McAuley family. The circumstances of our current culture will not define our school community, but I believe will steel and inspire us. Please remain prayerful and positive, as I know you will. We are fueled by trust in our Lord and leaders, our supporters and a belief in better tomorrows.
We invite you to follow us on our various social media channels. You can find links to our sites and pages by clicking on the icons at the bottom of this letter.

"I'm proud to be a McAuley alumna! I count my experience in high school among the best for work ethic and civil duty. I'm practicing social distancing and staying home when I can, but I'm also among the few whose job remains open for the time being. I count it as my civil service to help keep the economy running by continuing to work."
"I am an employee of Joann Fabric and Craft Stores. We are dedicated to helping the medical community with emergency masks made from our stock of cotton fabrics. We are providing take-home kits free of charge for anyone to make masks if they have access to a sewing machine. We also will have our classroom sewing machines available for use so that even those without a sewing machine at home can participate. Anyone can also bring their homemade masks to us and we will donate them to our local hospital on their behalf."
"God bless and all you do for Mother McAuley! Given my McAuley education and a dedication to social justice, I am joining the medical community, coming out of retirement, for the good of our community."
Mother McAuley Liberal Arts High School
3737 W. 99th Street
Chicago, IL 60655
To unsubscribe, click here.