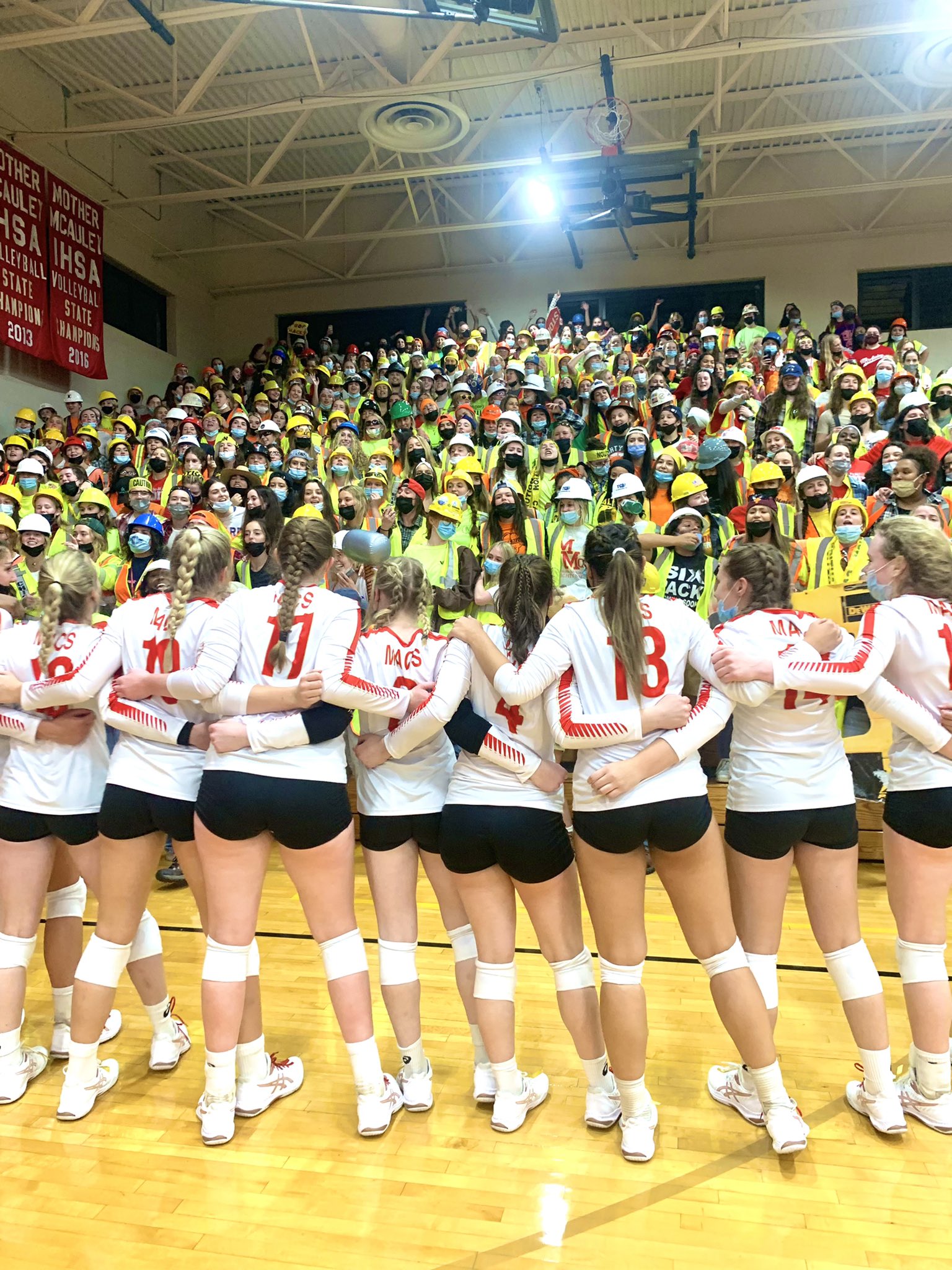 Dear Parent(s)/Guardian(s),
What a thrilling week! Packed with 400+ students, all levels of our volleyball teams achieved victory last night as the Mighty Macs took on the Redhawks! Not a few hours later, we joined together, in-person, for a memorable Mercy Day celebration in the auditorium. Check out our social media coverage to see the incredible images from last night and today.
On Saturday, we host our Homecoming Dance, where we open various areas of our school (the West gym, dining hall, two enclosed courtyards, and the student lounge to accommodate students in a safe manner. As a reminder, students should bring money if they plan to purchase food from the Doughs Guys, Tropical Sno, or El Coyote food trucks. Finally, please remind your daughter (and her guest if applicable) they must wear their mask over their mouth and nose for the entirety of the Homecoming Dance, unless they are outdoors. Tomorrow promises to be an unforgettable night, so we can't wait to see all the Macs for their Homecoming dance!
Go Macs, indeed!
Mrs. O'Reilly
Meet our new School Social Worker!
The Student Services Team is excited to introduce Nadine Byrnes, the new School Social Worker to the Mother McAuley community. Mother McAuley is extremely fortunate to have Mrs. Byrnes bring her experience and credentials to our student body. She will give our students additional support and help provide a setting for teaching, learning, and the attainment of competence and confidence in every student. Students will be referred to Mrs. Byrnes by their School Counselor when extra support is needed.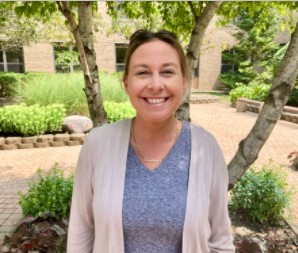 Nadine Arvesen Byrnes is a lifelong resident of the southside of Chicago and McAuley alum. She went on to receive her BSW (2012) and MSW (2013) from Western Michigan University. She began her career at Timberline Knolls residential facility for women and young girls. She received trauma informed training, along with dialectical behavioral training from Timberline Knolls. Nadine transitioned to working as a case manager providing early intervention services to children from birth - 3 years old and their families. Her most recent position was at an alternative high school where she provided social work services to students with behavioral and emotional disabilities. Nadine is excited to be back at Mother McAuley representing the Mighty Macs and providing support and lifelong skills to young women, so that they can find their potential and continue the McAuley legacy.
School Counseling
During the adolescent stages, autonomy is key in building confidence, self-worth, resilience, and responsibility. Establishing a strong relationship of trust through communication that supports your teen and reinforces their strengths is elemental during this period of identity formation. Albeit, getting more than a one-word response may seem like a monumental task at times, a relationship that fosters open communication, empathy, and encouragement, rather than judgement and criticism, will encourage your teen to share information with you. Take these opportunities to listen to your child, by asking participatory questions (open-ended), such as how do you handle stress; tell me about your favorite band; tell me about a challenge you faced today. WARNING: not too many questions at one time as this will cause "teen irritation." The flip flop of when your toddler always asked… WHY?
Communication coupled with responsibility will provide your student with opportunities to make choices. Give them tasks to complete for you, push them to take on challenges, and offer encouragement based on their ability to tackle obstacles (college planning). Also, consider allowing their participation in setting expectations and consequences that affect them directly (i.e. curfew). These trust building tasks go hand in hand with establishing independence as it lessens fear of incapability and increases their sense of accomplishment.
As your teen carves out their space in the world, remember as with toddlers, they may bump their head and or scrap their knee once in a while, and although our instinct is to protect them at all cost, their mistakes are learning experiences that encourage growth and maturity. Establish a relationship built on trust, so that when they hit a bump in the road they know who they can turn to for guidance back to a safe path.
For more information and tips related to establishing better communication with your teenager, please check out the following links (highly encouraged).
College Counseling
College Fair
The Br. Rice/Mother McAuley annual College Fair will take place on October 29th, 6:30PM - 8:30PM. Both campuses will host this event simultaneously. This event is offered to students and parents of all levels. It is particularly helpful for junior students beginning their college search, however it is extremely valuable to our seniors in gaining "face time" with the college representatives that will be reading their applications this fall.
Student-Athlete Parent Night
The Director of Student Services and Athletic Counselor, Kathleen Mixan, will present to student-athletes and their parents about the NCAA and NAIA recruiting process on Wednesday, September 29th at 6:00PM in the Media Center. She will explain NCAA rules and regulations, the National Letter of Intent, how to compose an email to a college coach, how to create an athletic and academic resume, while also reviewing common questions asked during the recruiting process. All high school athletes interested in playing a sport in college are highly encouraged to attend.
Juniors
The Class of 2023 will begin their college exploration on Tuesday, September 28th. Mrs. Lynch and Ms. Mixan will be presenting to the juniors in their science class on how to start using the college search engine in Naviance. Naviance is a comprehensive college and career platform designed to help students navigate the college arena and prepare them in beginning to understand what characteristics they want in a college campus. Students have been challenged to speak to three college representatives at the College Fair next week and ask various questions, which are posted in the student's counseling google classroom. It is highly recommended that all juniors attend the College Fair.
Seniors
Seniors should continue to submit their college applications and request transcripts via Naviance AFTER their applications are submitted. When requesting where to send students' teacher and counselor letters of recommendation, students will complete the Letter of Recommendation google form. All step-by-step procedures are located in the Class of 2022's counseling google classroom for reference. All transcript requests must be submitted 10 days prior to the application deadline. All college applications must be submitted by November 1st, priority deadline.
FAFSA & CSS Profile Open October 1st
The Free Application for Federal Student Aid and the College Scholarship Service Profile opens on October 1st. The colleges your student is applying to will determine which form(s) you will need to submit. It is highly encouraged that families submit the FAFSA and CSS profile in the month of October. Some schools will not offer aid if a student applies or submits the FAFSA or CSS Profile after the November 1st, Early Action deadline.
FAFSA
We highly recommend that every senior family complete the FAFSA for each child in college, regardless if you think you qualify for federal aid or not. The majority of schools require the completion of the FAFSA for students to qualify for institutional aid. When parents complete the FAFSA and students apply by the colleges' priority deadlines, students will automatically qualify for money. Students will also qualify for loans if the FAFSA is completed.
CSS Profile
About 400 schools use the CSS profile as part of their financial aid process. The CSS profile is more extensive than the FAFSA and will require families to divulge more financial information.
Complete the FAFSA at fafsa.gov and the CSS profile at https://cssprofile.collegeboard.org/
Financial Aid for School Tuition (FAST) Application
The application process for the 2022-23 school year opens as of October 1, 2021. Financial aid awards are not automatically renewed and must be applied for annually.
Mother McAuley utilizes the online service of Financial Aid for School Tuition (FAST) to process financial aid applications. FAST does not decide whether financial assistance will be given or the assistance amount; rather FAST provides a need-based financial aid analysis service that includes a recommendation of what a family should reasonably contribute toward tuition. All information from FAST is kept confidential. Results are reviewed by the Mother McAuley Financial Aid Committee and awards are based upon the 2022-23 financial aid budget.
To begin the application process:
From the McAuley website at www.mothermcauley.org, click on the "Quicklinks" menu on the homepage. Select "Financial Aid (FAST) Application" from the drop down menu.
The application process is self-guided. You may navigate in and out of the program allowing you to partially complete an application and go back to it at another time. Online support and a 24/7 helpline is provided at 877-326-FAST (3278)

or

help@ismfast.com.

The charge for the application is currently $45, (increasing to $48 on November 1st) and is paid by credit/debit card at the end of the session. We are unable to offer fee waivers. If you do not have a credit or debit card, please call the Mother McAuley Tuition Office at 773-881-6506 for assistance

.
After completing the online application, scan or mail your 2020 tax returns for both state and federal taxes with W-2's directly to FAST. Do not mail documents to Mother McAuley.
Currently enrolled students must have a minimum cumulative GPA of 2.5 to receive Mother McAuley financial aid.
The application deadline for priority consideration is December 13, 2021. For applications received by this deadline, award decision letters will be mailed to families on February 11, 2022. Please note that applications and/or tax information submitted after the deadline will not be considered until April 2022, and awards will be based on any remaining financial aid funds.
Class of 2023 Prayer Service and Reception
On Thursday, September 30th we will celebrate our class of 2023 with a Prayer Service and reception. All parents are welcome to join their daughters at 12:30pm in the Auditorium for the Prayer Service, and then outside for light refreshments to celebrate our Junior Class.

On Monday, September 27th and Tuesday, September 28th, our freshmen students will participate in their freshman retreat at Mother McAuley. Students will be divided by their Theology class, and will hear Peer Minister reflections and participate in various small group activities. Please contact your daughter's Theology teacher with any questions. We are looking forward to a fun and faith-filled day!

We held our All-School Opening Mass on September 17 where we were able to gather together and bless the tabernacle given to us by Mercy Hospital. This item will now be on permanent display within our school to remind our students of the rich history behind Mercy Hospital and inspire them to walk in Mercy everyday.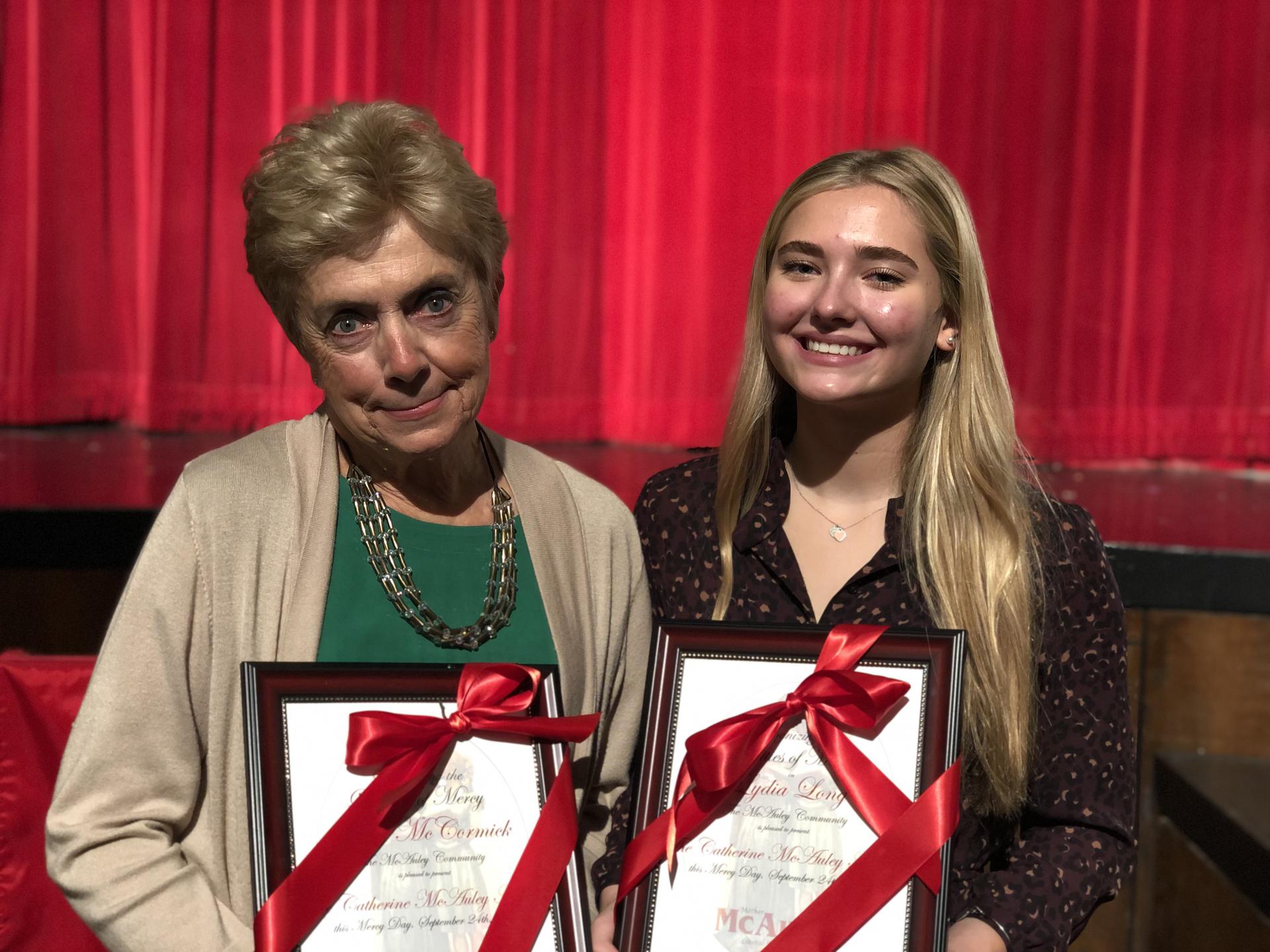 A mighty congratulations to the recipients of the 2021 Catherine McAuley Award: Faculty member, Mary McCormick and our senior student: Lydia Long '22!
As part of its annual Mercy Day celebration, Mother McAuley bestows the Catherine McAuley Award on a senior student and faculty or staff member who demonstrate a deep faith and commitment to the school and the students which inspires their co-workers, students and family members to be better stewards of Catheine's vision.
Click on the button below to support our current and future Mighty Macs!
Reminder - Yearbook Photos Next Week!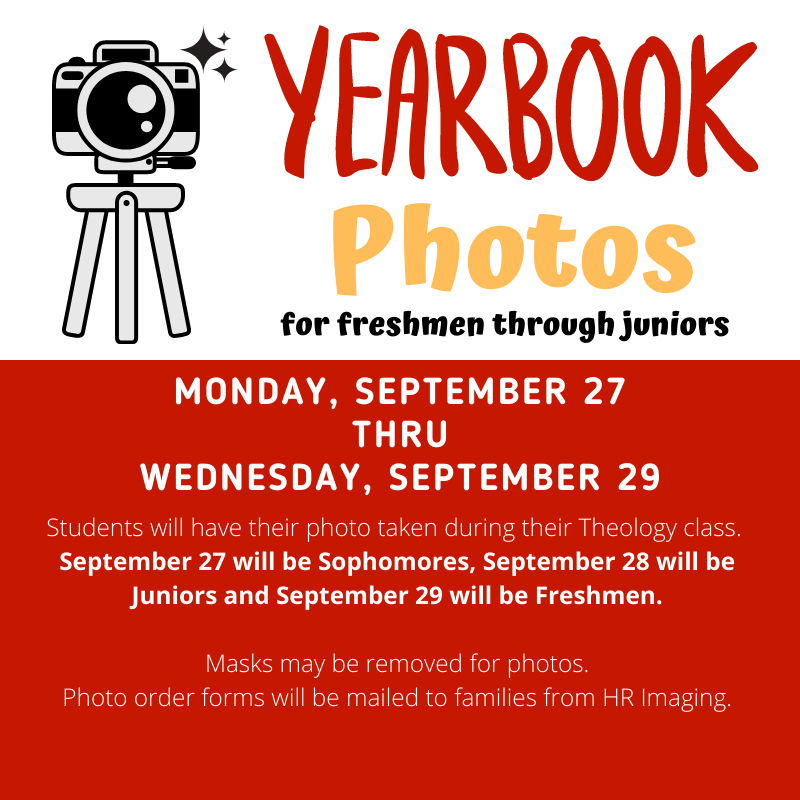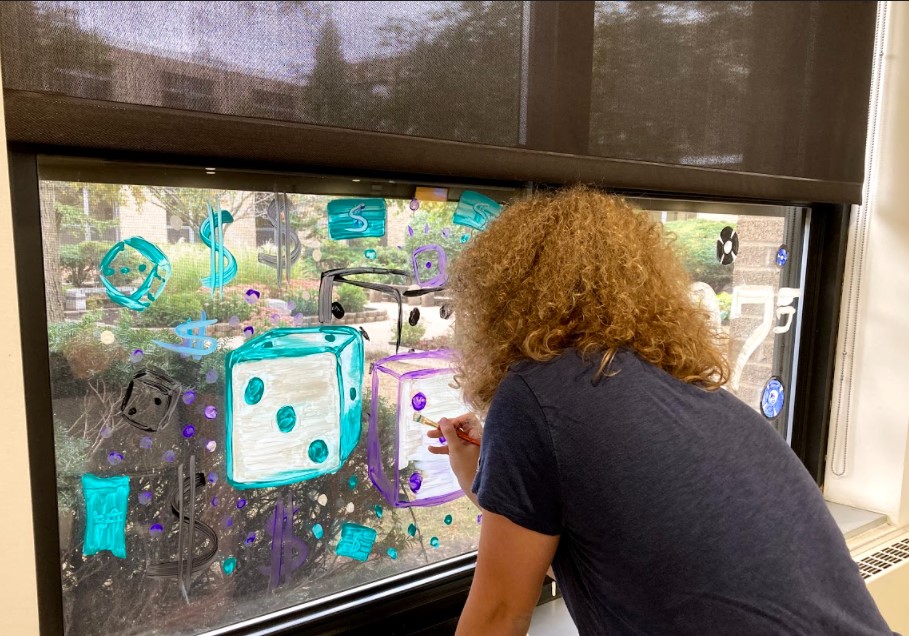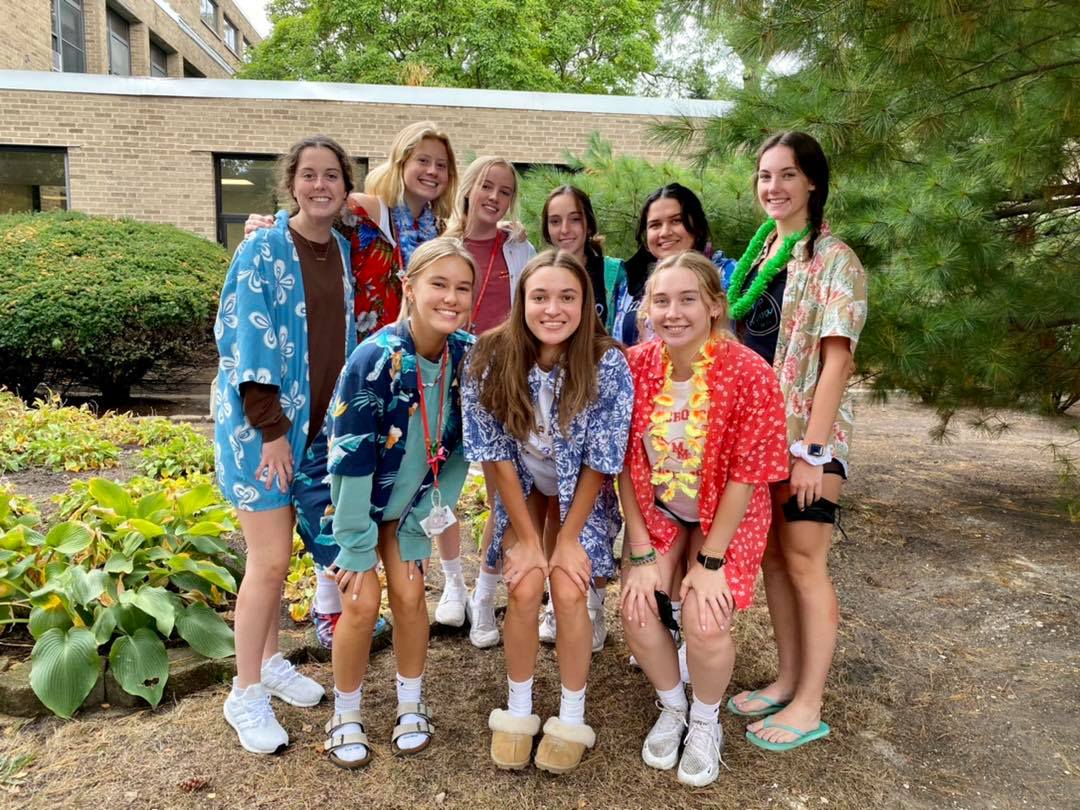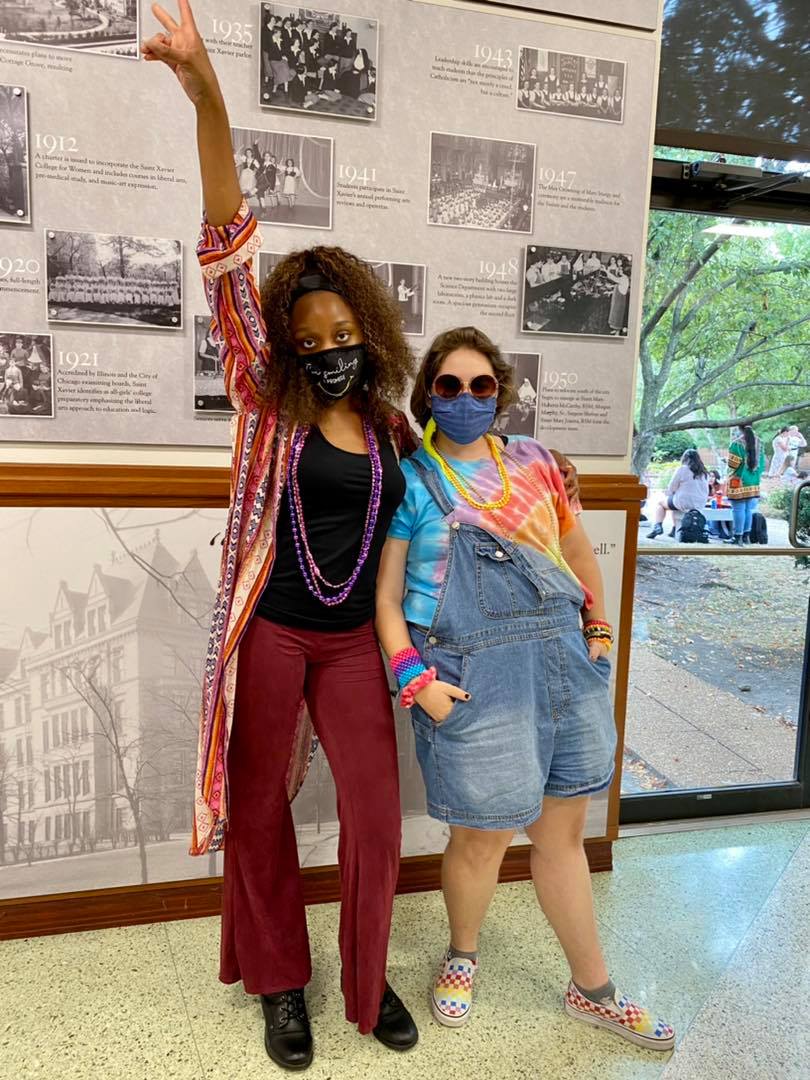 We kicked off our Homecoming week with a Drive-In Movie on Sunday, followed by daily themes:
Monday - Mamma Mia Monday
Tuesday - Teen Beach Tuesday
Wednesday - Mean Girls (on Wednesdays we wear pink)
Thursday - High School Musical
Friday - Mercy Day (Dress to impress)
Next up: Casino Royale Homecoming Dance on Saturday!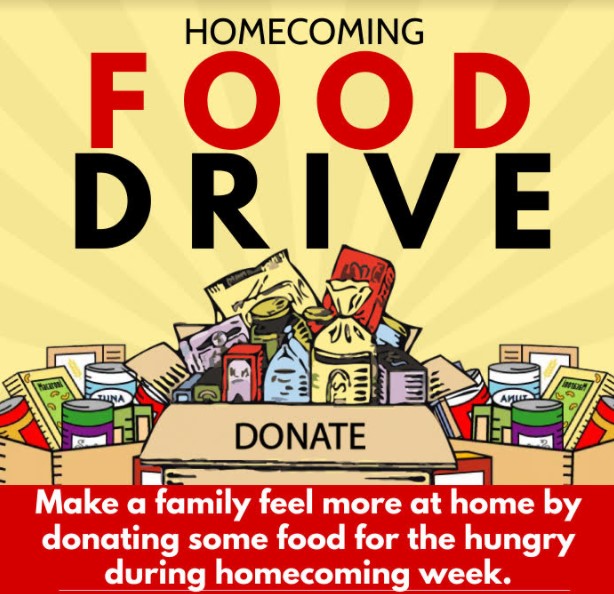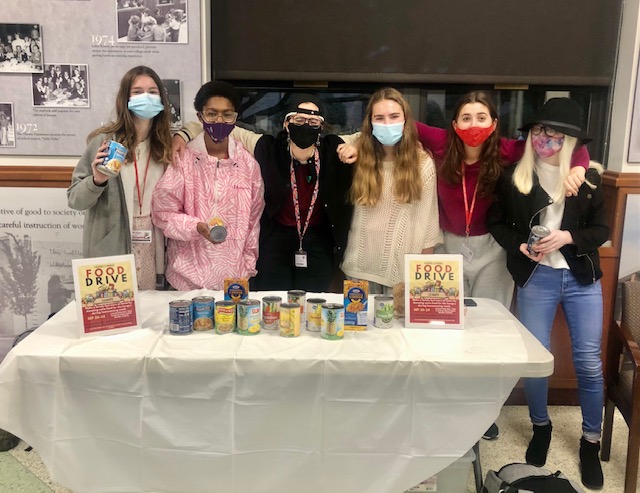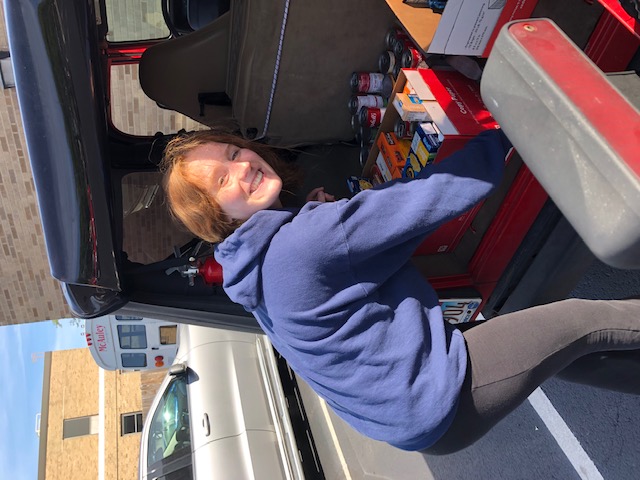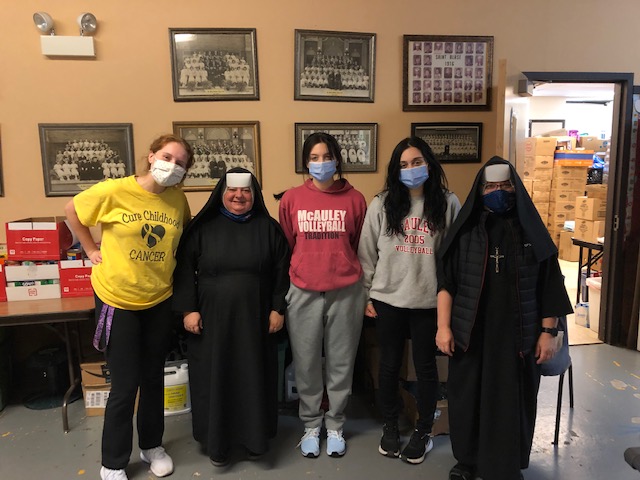 The Spanish Honor Society and the Culinary Club organized a Food Drive this week to support St. Blase Food Pantry. A big shout out to Madison Martin '22, for being the lead on this endeavor for the past 4 years!
Buddy's Helpers' Making a Difference On and Off the Field Campaign Winner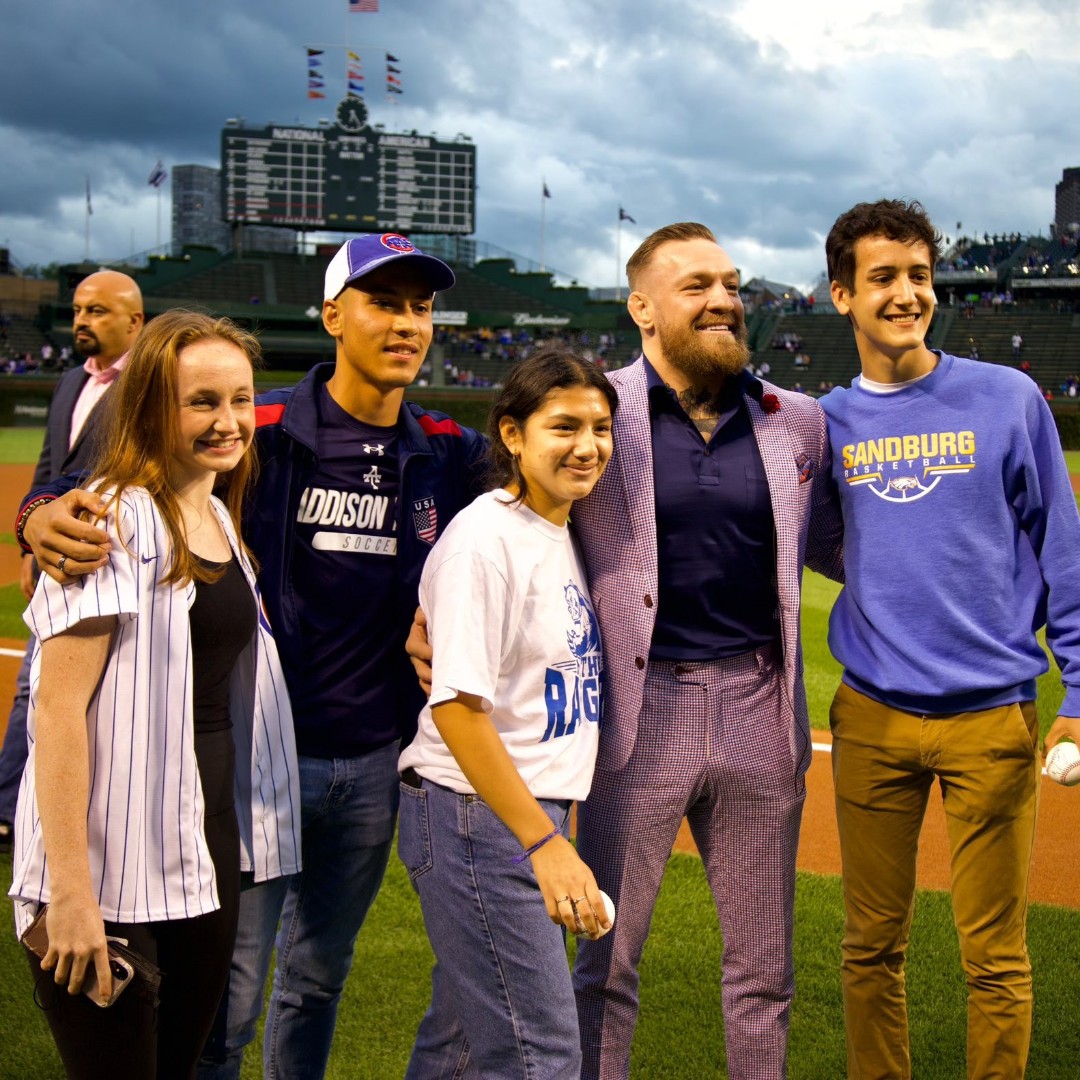 Ciara Hosty '23 was nominated and chosen for Buddy's Helpers' Making a Difference On and Off the Field Campaign. From serving in the Professional ABC's Club (Vice President); as a member of the Varsity Soccer Team; as a Student Ambassador; and on the Upperclasswomen Advisory Board to helping with the Ronald McDonald House Teen Advisory Council and baking items for various charities through the St. Gerald Teen Baking Club, Ciara tries to help enhance the lives of others all throughout the Chicagoland area!
On Tuesday, September 21, Ciara was given the opportunity to sing the 7th inning stretch at the Cubs game with Conor McGregor and other student leaders! Congratulations Ciara and thank you for making our Mighty Mac community strong!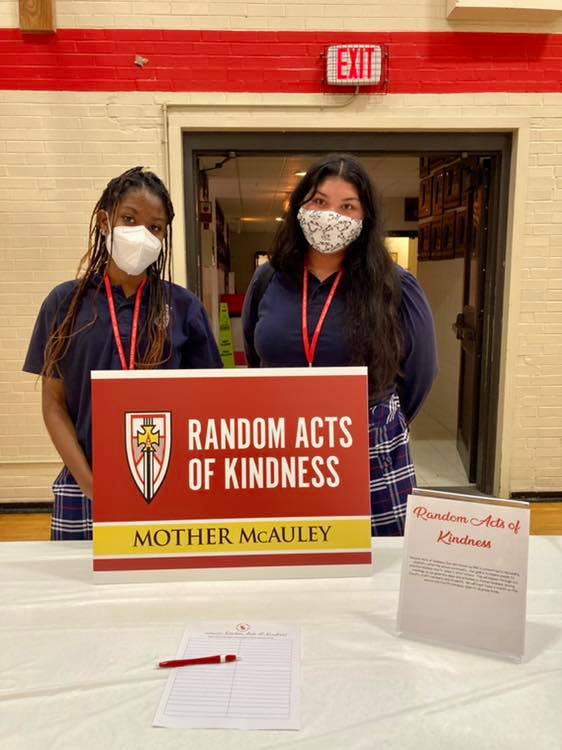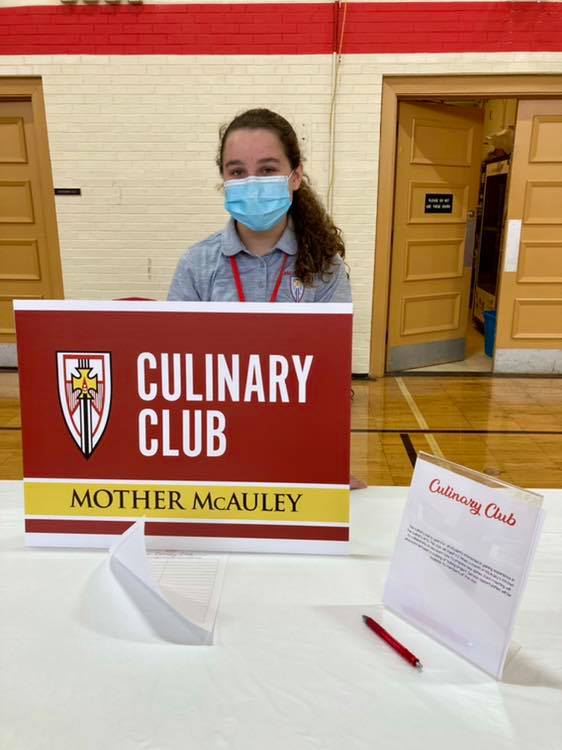 With over 40+ clubs and organizations for our students to join, a Club Fest is a must! Students were able to walk around and check out all of our club offerings and sign up for whatever piqued their interests! We are always looking for ways to appeal to each student's unique interests, which is why 94% of our student body participates in one or more club/organization!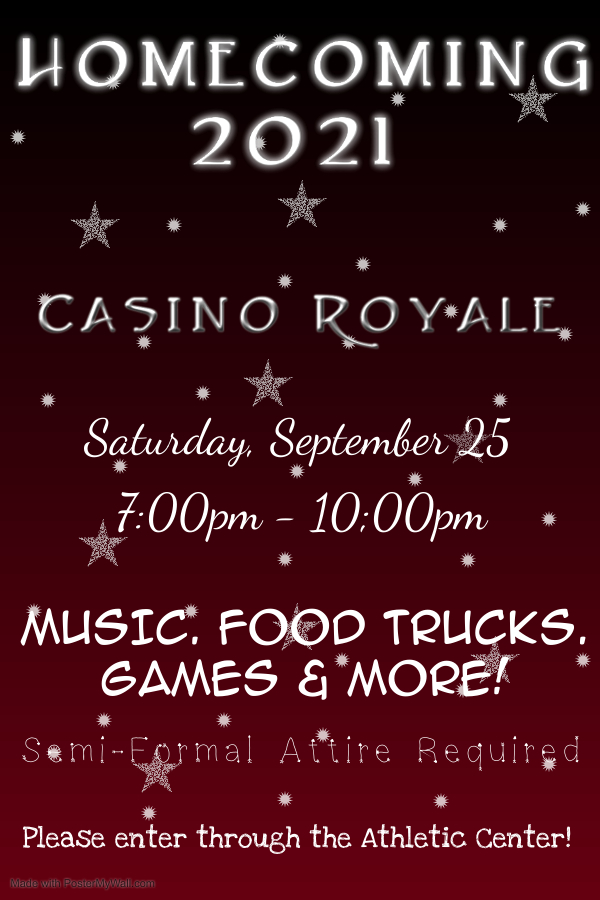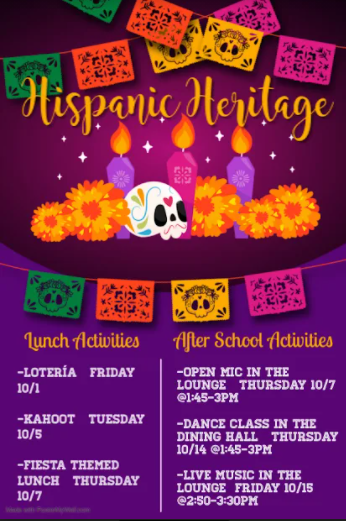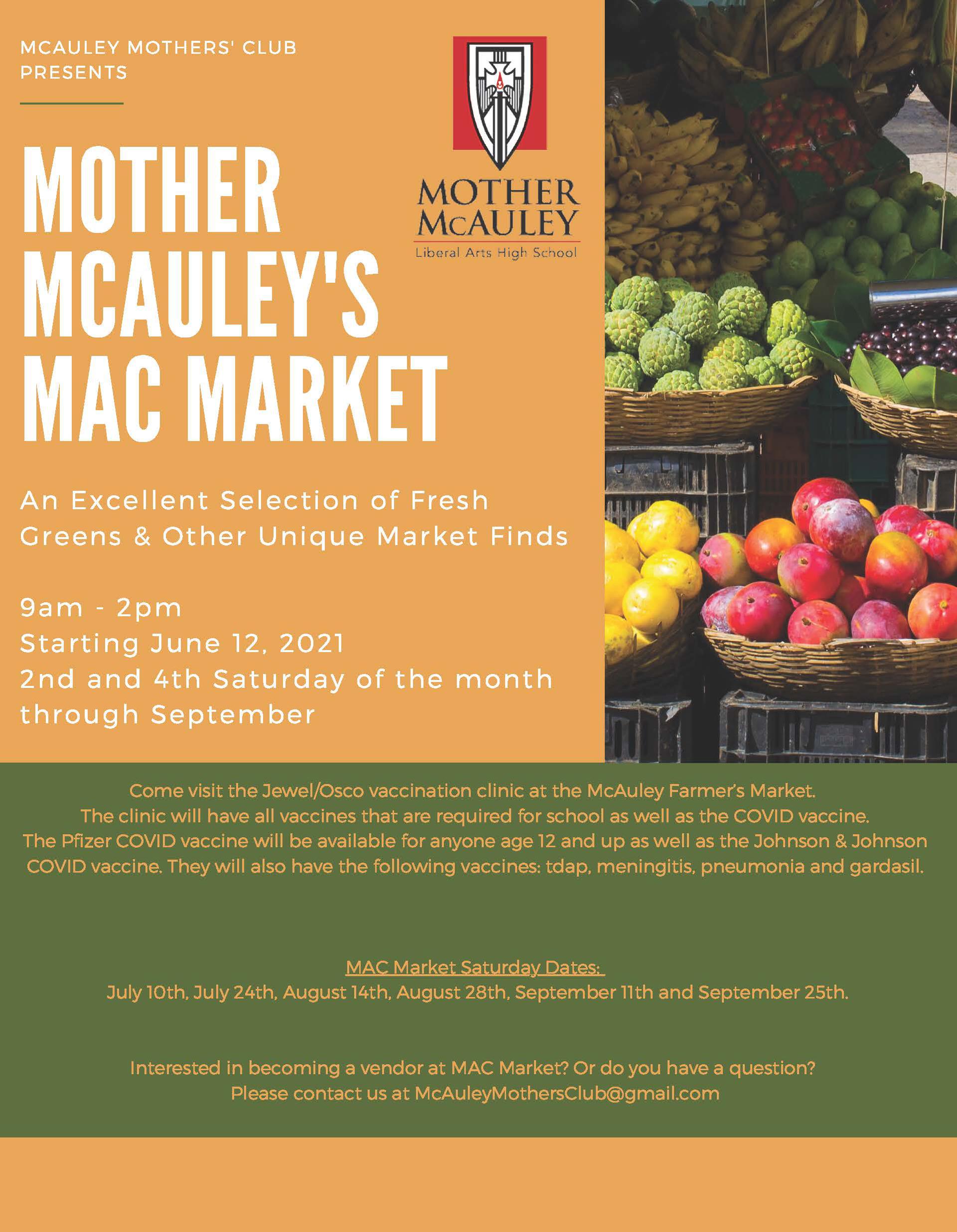 Fathers' Club Holiday Fundraiser
All orders must be received by October 14!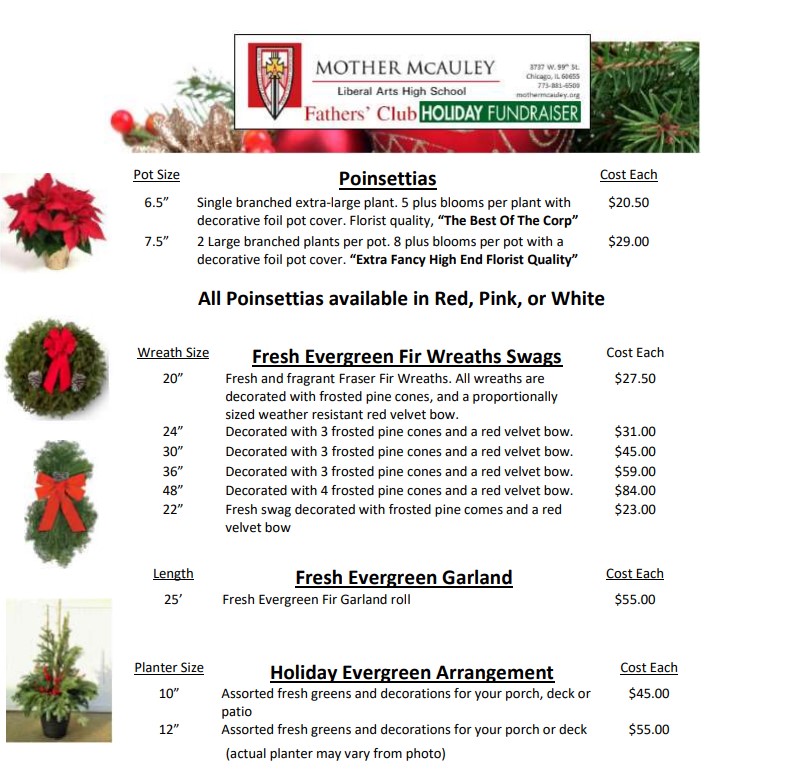 Mother McAuley Liberal Arts High School
3737 W. 99th Street
Chicago, IL 60655
To unsubscribe, click here.